With the annual WWE Superstar Shake-up in the books, let's take a moment to look at who won, lost, and who should seriously contemplate calling IMPACT or AEW (just kidding) below!
Losers: The… *sigh* Viking Experience
When War Machine was first signed with WWE I was extremely happy for Hanson and Rowe. These two have put on classic after classic in ROH and overseas. A few seconds into marking out I was immediately filled with dread. Why? How long would it take for WWE to take one of the most intimidating teams in wrestling and turn them into hog farmers or something equally ridiculous? How could a Viking gimmick get over with the mainstream audience? Much to their credit, WWE just slightly changed the duo's name to The War Raiders and essentially let them be the team they have always been.
…Until the Superstar Shake-up. Now say what you will, but being saddled with a terrible name could kill your career. No matter how much Road Dogg or Mick Foley attempt to put it over, "The Viking Experience" is one of the dumbest names in the history of pro wrestling. Oh and just as an aside, Foley is exposing himself as a bit of a hypocrite here. He dedicated almost an entire chapter of his first book to how he fought against being saddled with a silly name like Mason the Mutilator.
Check out our other WWE post here
Imagine if Stone Cold stayed "The Ring Master"? Now, given the fact that Vince McMahon seems to have the attention span of a gnat, Erik and Ivar will most likely be known as just "The Vikings" by SummerSlam, but as far as debuts go (meaningless eight-man tag match and hilariously stupid name) this wasn't it. These behemoths needed weeks of vignettes and an epic debut match against established names to really make an impact.
Prediction: Every team gets a run with the Raw tag belts. The Bunny Ranch's latest menu item… I mean the Viking Experience will be no different.
Winner: Buddy Murphy
Murphy has put on high-quality match after match, even if the casual fan probably hasn't seen it. Don't lie, you know you don't watch 205 Live. Hell, this is my job and I hardly watch it. Granted, a run in NXT as a singles competitor would have done Murphy and his character… wait what the heck is this guy's gimmick again? Note to self: dedicate 500 words to explaining why Murphy needs a personality later. Anyway, Murphy is the type of superstar that will be featured heavily on SD Live. Murphy will slide into the Andrade roll of a heel that they can slot in to have a good 10-12 minute match each week.
Prediction: Look for Murphy to end up wearing the Intercontinental Championship sooner rather than later.
Loser: Kofi Kingston
This one is self-explanatory. As soon as Roman Reigns' music hit Tuesday night Kingston's days as WWE Champion were numbered. If WWE is really behind Kingston, the first thing he needs to do is beat Reigns in the middle of the ring, clean, which will NEVER happen. Reigns is SD Live's new golden boy, like it or not.
Prediction:
Winner: Raw Tag Team Division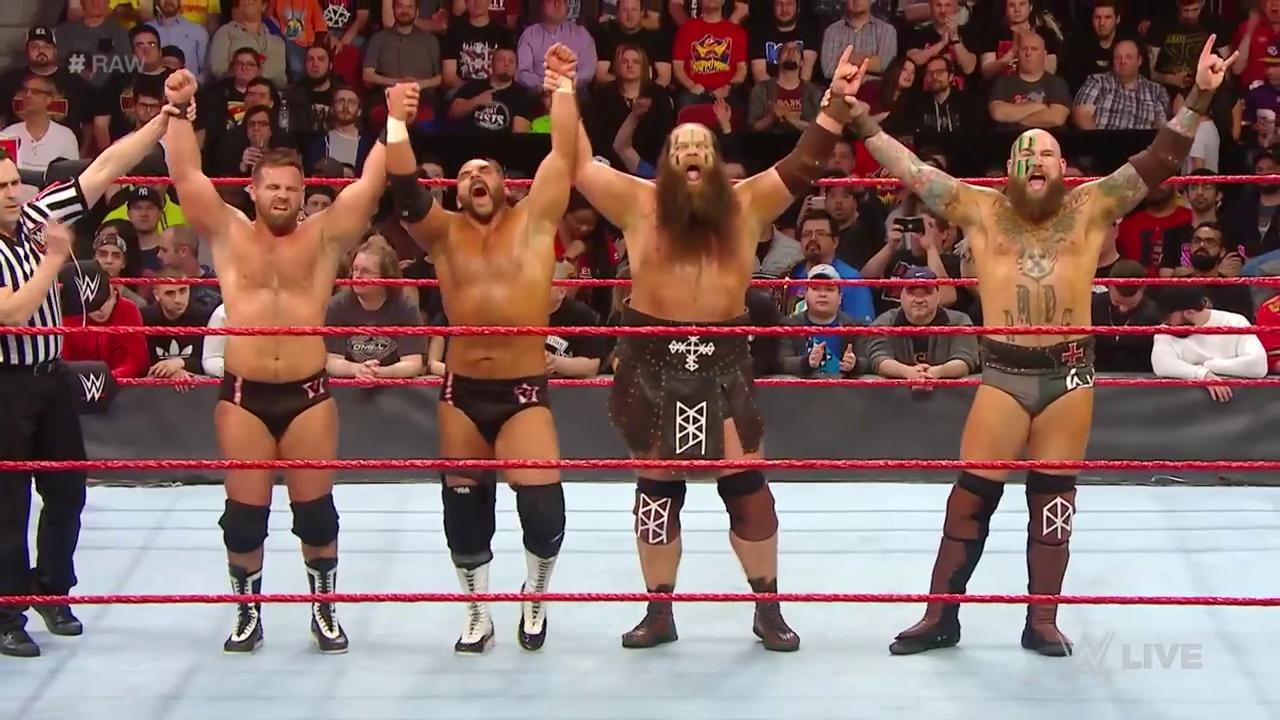 The Raw tag team division has been stagnant for some time. With the addition of The War Ra… damn it. The addition of Viking Experience, The Usos, and what seems to be the permanent tag team of Aleister Black and Ricochet, or Alechet as I like to call them (shut up… they can't all be winners) injects much-needed life into a division that has featured the B-Team and Hawkins and Ryder as champions. Nothing against those two teams, but… I mean… let's be real here. 
Prediction: Since Raw tends to give us somewhere between 2-17 tag/multi-person matches a show, having new names will only lead to new and potentially exciting combinations. The Vegas 2-for-1 special… I mean The Viking Experience vs. The Usos for the tag titles is going to be entertaining, to say the least.
Check out our other WWE post here
Loser: The Riott Squad
This one makes zero sense. Out of the three members of the Riott Squad they chose to branch off Morgan, who hasn't exactly blown anyone's mind in the spots she has been featured in. WWE doesn't employ the sink or swim methodology anymore since they are allergic to firing people so I can't even justify this move in that sense. Maybe Ruby Riott is the real loser here since she will likely end up stuck in strictly tag team competition with Sara Logan. I am not 100% sure what Logan is or what she will be, but the best move may be to pair her with her husband in the Viking Experience. That could be fun and give the crowd a reason to cheer for Logan.
Prediction: No way this ends well. Morgan will end up as cannon fodder for the upper card while Riott and Logan do the same in the tag division.
Winner: Roman Reigns
Reigns has been on Raw essentially his entire run on the main roster. He was long overdue for a change of scenery. Reigns casts a Galactus-sized shadow everywhere he goes so, look for the "Big Dog" to Hand Banana the entire SmackDown Live roster on his way to obliterating the People's Champ Kofi Kingston for the WWE title… Fingers crossed that Reigns opts to put Kingston over as the guy on SmackDown first before eventually stealing the title. This move means WWE is gearing up for SmackDown Live's move to Fox so in short, gotta make Reigns look strong.
Prediction: It's Reigns' yard no matter if you like it or not. Reigns is going to walk into the SD Live locker room, look at Kingston, and say:
Loser: Shinsuke Nakamura
Boy oh boy. Nakamura has gone from winning the Royal Rumble and being featured in the main event match at WrestleMania to losing tag team matches next to another severely underutilized talent, Rusev. With the Shake-up being announced, I wrongfully assumed that Nakamura would get sent to Raw to rehabilitate his character but NOPE. That's a big NOPE. I know I am in the minority here, but I like Rusev and Nakamura together. That said, they both could mean so much more based on their inherent gifts. Nakamura is a rockstar who is being treated like a mumble rapper. It makes no sense.
Prediction: More of the same. Nakamura seems content so look for him to end up on Main Event or something asinine like that.
Check out our other WWE post here
Winner: Seth Rollins
Rollins is a winner due to the classic addition by subtraction rule. The minute Reigns was sent to SmackDown Live, Rollins officially became the man on Monday Night Raw. It's his show and it will be for the foreseeable future. If that ain't winning, I don't know what is.
Prediction: Rollins is going to be Universal Champion for a very long time.